Podcast: Play in new window | Download
Subscribe: RSS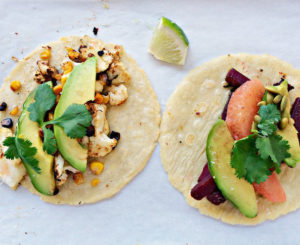 In Food News this week, NPR's The Salt blog asks: How organic is your milk? (Hint: Probably not as organic as you think.)
Joy is on a vegan taco kick. She likes to fold beans, greens, avocado, asparagus and all kinds of other vegetables into her tortillas.
We recap our recent grain bowl class at the Philadelphia Free Library. It was so much fun and everyone feasted on grain bowls. Sound like a good night? Come to our salad class on June 20. Mark your calendar.
We talked about some of the season's new cookbooks that are calling out to us.
And finally, at the market we're buying spinach. The big kind, not the baby kind.
If you like what you hear, make sure to subscribe! Bonus points if you rate us or leave a review. Follow us on twitter @localmouthful and help us spread the word about the show.
Taco photo by Stephanie via flickr CC