Podcast: Play in new window | Download
Subscribe: RSS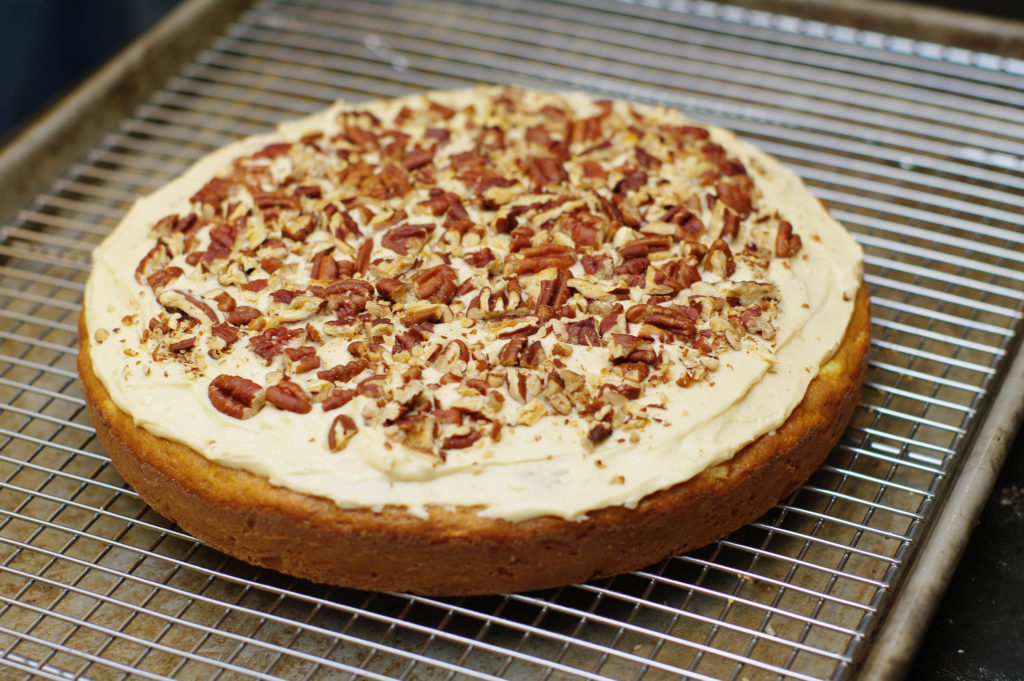 A recent segment on NPR discussed an interesting statistical correlation between the days of the month when food stamps/EBT were distributed and the reduction of drunk driving accidents. Read or listen here. 
What's for dinner this week? Homemade Pierogi! Marisa made the terrific recipe from the cookbook Good and Cheap.
The season of gift giving is upon us. We talked about some of our favorite homemade edible gifts last year (episode 117), but wanted to hit on some of our favorite gifts for the kitchen. (Here's a link to that wooden tool write up in Bon Appetit Joy couldn't remember in the moment.)
We also talked about our dessert eating habits, and wrapped things up by going to market for persimmons.
Speaking of dessert: Last week, a lot of you asked for Joy's parsnip cake recipe.
Here it is:
Parsnip Cake with Maple and Toasted Pecans
makes one 8-inch cake
Cake:
1 cup all-purpose flour
1/2 teaspoon baking powder
1/2 teaspoon baking soda
1/4 teaspoon salt
4 tablespoons unsalted butter, softened
1/2 cup sugar
3 tablespoons maple syrup, grade B
1 egg, beaten
1/2 cup sour cream
2 cups peeled and shredded parsnips (about 3 medium parsnips)
Frosting:
1/2 cup confectioners sugar
2 tablespoons unsalted butter, softened
1/4 teaspoon salt
3 tablespoons maple syrup, grade B
1/2 cup pecans, toasted and chopped
1. Preheat the oven to 400 degrees. Butter and flour an 8-inch cake pan.
2. Add the flour, baking powder, baking soda, and salt to a mixing bowl and whisk well to combine. Set aside. In the bowl of a stand mixer fitted with the paddle attachment, combine the butter, sugar, and maple syrup and beat on medium speed until light and creamy, about 2 minutes. Add the egg, and beat until incorporated, about 20 seconds more.
3. Add about one-third of the flour mixture and mix on low until just combined, about 10 seconds. Add half of the sour cream and mix until just blended, about 5 seconds. Alternate adding half of the remaining flour mixture, the remaining sour cream, and the remaining flour, mixing just long enough to combine after each addition. Using a spatula, gently fold in the parsnips. Pour batter into the prepared cake pan, and smooth the top. Bake until a toothpick inserted in the center comes out clean, about 25 minutes. Cool in the pan for 10 minutes before inverting onto a wire rack to cool completely.
4. Make the frosting: In bowl of a stand mixer outfitted with the whisk attachment, combine the confectioners sugar, butter and salt. Beat on medium until the butter is incorporated into the sugar with no large lumps remaining, about one minute. With the mixer running on low, slowly stream in the maple syrup one tablespoon at a time. Increase the speed to medium and beat until the frosting is fluffy, about 2 more minutes.
5. When the cake has cooled completely, frost just the top, leaving a half-inch border around the edge. Sprinkle the frosting with the pecans.
If you like what you hear, make sure to subscribe! Bonus points if you rate us or leave a review. Follow us on twitter @localmouthful and help us spread the word about the show.